Dear Reader,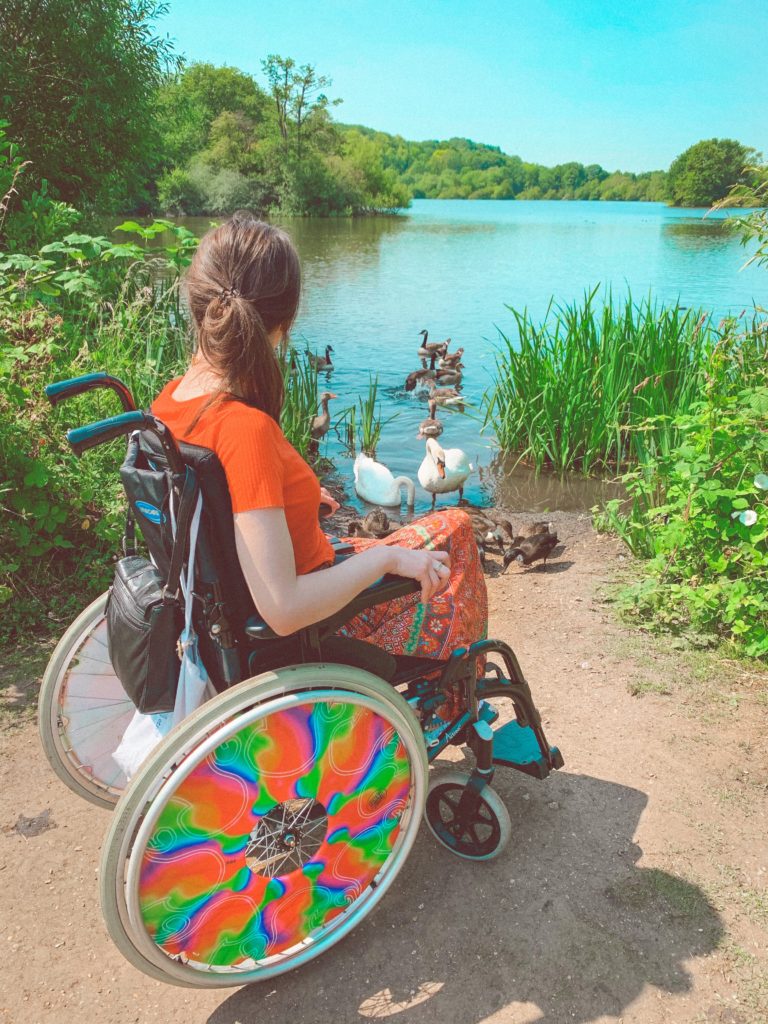 Ever get that feeling that you're not enough? That you're not doing enough? That what you are right now and who you are is not enough? Well this is something that can honestly feel quite lonely and depletes one's energy and when in such a mind-set….the hope of this turning round does not seem like a move that can be made. However it's me who is writing this post and even though I can annoy the crap out of myself being a positive Polly and sometimes just wanting to see the volume of water that is in the glass in whatever damn way (without a psychological explanation being attached to this), it is true that this is not a feeling that is felt by a singular person- it is experienced by many.

It feels like I've gone off into the deep end, I didn't mean to here but fear of not doing enough are thoughts that I have been experiencing of late. Back in May I shared on my social media that I had been experiencing pain as a result of my Cerebral Palsy, which meant I couldn't do very much at all for a while, and for someone like me who always wants to be a busy bee this was kinda hard. Since then these aches have been on and off depending on how much I've been doing. It's that knowing that I'm not doing, not continually moving forwards, which at these times are my more prominent thoughts, the insistent chatter of what I could be doing clogs up the ol' mind. Somehow this has more of an importance than it did before. I guess it's a classic case of when you can't do something, you want to do things even more with the imagination running wild with ideas. Ohhh how the mind chatters!
Sitting there with all these thoughts was kind of like toying with someone else's story-it wasn't I who was living out that day, it was a character I created in my brain. A character with no flaws who navigated a flawless day-ironically, this whole idea is flawed! The thing is by participating in such creativity and building a picture of a person of who you think you should be kind of puts one into self-destruction mode, picking out parts of oneself that aren't enough, that they should be more focussed- basically berating anything that makes one human-the mistakes, the getting things wrong, the going at a different pace to everyone else, the not living up to expectations people or even you had of yourself … the list is endless. All this obsession over what you think you don't measure up to will only make you feel worse.
I do think now more than ever we need to be kind to ourselves as well as each other. This year has thrown everyone sideways in one way or another, yet we can find ways to tear ourselves down and tell ourselves that we should be doing more or that we're not doing what we should be. There is no 'right' way to think, but if we just found a way not to be too harsh or expect too much of ourselves and be a bit more gentle maybe we would start to feel a little lighter in a world that already seems so heavy. I guess what I want to say is that it's okay if you are not where you thought you would be, focus on where you are and the pathways that could lead from there. It goes without saying that everyone will experience peaks and trots and just because you find yourself at a low, up against a challenge, facing a flare up, it does not mean you can't get back or that it will be like this forever. I am saying this to you as well as myself, do not let these not so great days define who you are.
There's that saying ride the wave. Although this can seem like a fleeting statement, it actually does have some merit-stay with me here. Instead of fighting what you are experiencing and burying yourself down some dark rabbit hole, I started to realise, when I had to take a break from things that rather than focusing on whether or not I was measuring up to being enough or trying to justify to myself as to why I was not doing thing, I started think about how just resting and being more present could just help the future me: if I rest now, I'll be able to do more later.
All my love XX