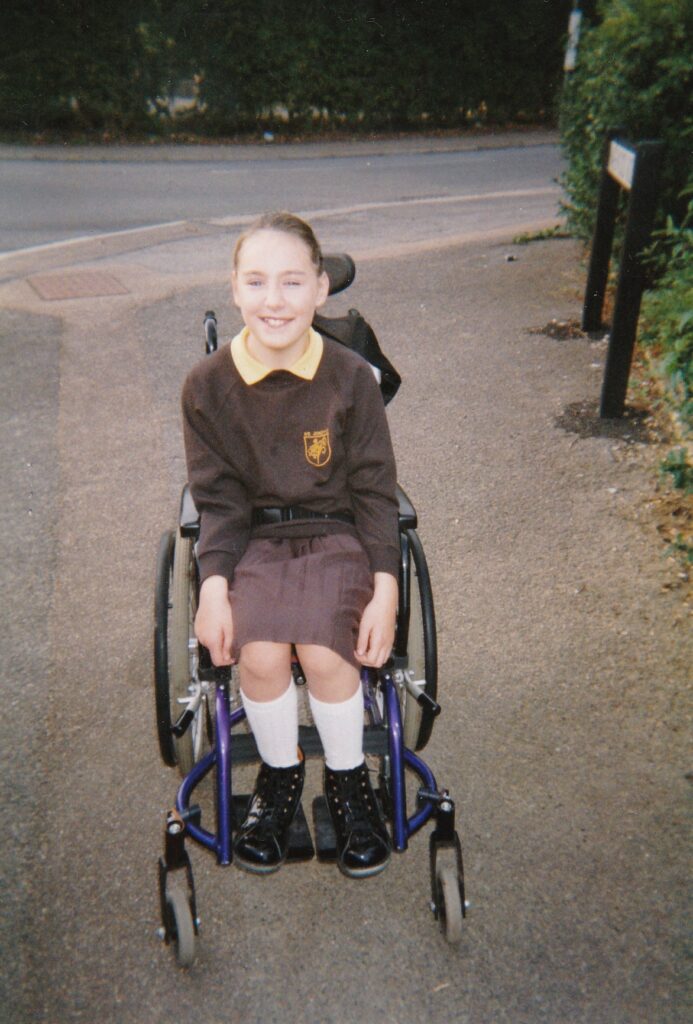 Piedro boots. Memories of embarrassment and wishing for their non-existence comes with hearing or thinking of these shoes. Shoes that I'm wearing in the photo above- I think I am about ten here. The nature of my disability means that when I do walk, my shoes have to have ankle support-so not every pair of shoes that I set my eyes on I can wear-. This term 'ankle support' was so pronounced when I was younger. I felt so othered by it, when I was told about the type of shoes that I should be wearing.
Receiving yet another box of specially made shoes I hoped that they would somehow be more of a vibe, more of a pair of shoes that I would in every way feel comfortable to wear, even though I knew what I was getting. I thought they didn't match my identity, but, really, I was trying to chase somebody else's. This was especially true when I grew into my teenage years.
Most of us growing up wanting to do whatever we can to fit in, no matter how comfortable or uncomfortable it feels. We might pretend to like particular music or style our hair in a certain way or perhaps we try to suspend an aspect of our personality, or, like I did, want to wear a pair of shoes like the rest of my peers had. I was a Noughties teen and at that time Dolly shoes were all the trend, and so I wanted to get in on this too.
After some tough persuasion, I had my own cute little black pair with a bow at the front. I felt soo cool! I also thought this a small way to claim that I was a teenager. However there were only so many times that the back of the shoes would come away from my heel, when I would take a few steps, making me even more unbalanced, before I realised that these shoes weren't making me comfortable like I thought they would. This was hard to admit.
As I write now, I think about those who dress their feet in plasters to save their feet from getting sores and compromising squashed toes for stunning outfit details- we've all got that t-shirt, in one way, and shoes to match!
The thing is though it is never just about shoes or music or hair styles or whatever else we are trying to mold ourselves into. It's about who we feel we are when we are seen sporting these fashion trends or bopping to popular tunes and, more importantly, how we feel when we are without these things.
Secretly, I was hoping that if I was seen wearing these Dolly shoes it would somehow gloss over my disability. That (and I do apologies for the wording of the rest of this sentence-it just captures my thoughts back then) even though I was in a wheelchair, these shoes would allow me to pass as a Noughties teen, with disability not being part of the equation. How silly was I? Of course these shoes wouldn't mean that suddenly my disability would be hidden from view like some kind of magic or something This… magic dust, if you like, would come years later, unpicking ablism and finding my identity as a disabled woman, beginning to feel comfortable with my disability.
When I started to settle into my disability, I started to recognize the shoes my feet actually needed. The term 'ankle support' no longer set shivers down my spine. It actually sets me free as it communicates my needs, and enable me to feel comfortable in the shoes I wear. Now I know what will make my feet happy.
I must admit though, it would be a whole lot easier if more accessible footwear was available.
Do I still feel my heart pang when I see shoes in the shop window that I can't wear? Absolutely! Am I picturing an entire outfit based around those shoes? Absolutely! But when I think how I might feel in those shoes… that giddy excited feeling slowly evaporates. I know if I wore those shoes, I would be uncomfortable….and so those shoes that a few minutes ago (sometimes times this take a lot longer) receives a head turn. As I go in search for shoes that makes me feel giddy, excited and comfortable!
This is a reminder to anyone with a complicated relationship with shoes: Stop stealing everyone else's shoes, dance in your own!
All my love XX